Rewire Your Relationship
This experience is for everyone.

From singles to couples to anyone looking to improve their relationship with themselves - this is an invitation to explore the Rewire.
You are invited to dive into powerful awareness to shift your relationships with others and see them from a new level of understanding.


Many of our most painful relationships are stuck in the same thought patterns, interactions or avoidance.


Yet on deeper unconscious levels they create an ongoing impact on our emotional wellbeing.

This program is designed to give you the tools and consciousness to Rewire the relationship paradigm and create a new reality.
JOIN NOW
Uncover......
A shift in relationship with the person you find most challenging in your life
A radical rewire of your view of relationships
A reconnection to the relationship with yourself that will feel more loving
A pathway to heal the reality where you feel separate and in pain about relationships
A new way to implement boundaries, that will make you feel empowered and in control
A new relationship with any shame, guilt and blame you hold in relationship
How to rewrite the paradigm of victim and perpetrator
JOIN NOW
Content Overview...
Week One
How to use relationships for your Evolution

Why every painful relationship is a Fractal of all others

The role of Pain and Fear to keep you stuck in fixed relationship patterns

How we use consciousness to witness the pattern and free us from the loop
---
Week Two
How we create a fixed relationship reality through judgement and programs

Why this serves an emotional addiction to that person

How we soothe and stretch the nervous system to break the addiction

The role of shame, self blame and guilt as deeper mechanisms preventing change


 
---
Week Three
How the traits you most dislike in another can show you where you have created defense mechanisms of suppression

 

or over expression

What happens when we bring our focus inward to released the

 

outward relationship

Developing 'Inner Boundaries' as a pathway to liberation


 
---
Week Four
How to relate consciously in your most painful relationships

How to re-orientate your energetic experience to release the loops of relationships

Understanding what ha

ppens when we release the loop and chaos arises

How to sustain relationship with Self
Program Delivery...
This powerful four week program will offer you the tools and consciousness to liberate this within yourself and redesign the relationships around you.

The content will be delivered online with journal activities and challenges.

Each week you will meet with as a group of five with Allura to explore these topics and receive individual support.

This session will be held at the same time each week and will be recorded for you to relisten to.

There is also a group chat on WhatsApp where you will be encouraged to share your journey and ask questions of Allura.

This comprehensive experience is designed to change your unconscious relationships to yourself and others.
JOIN NOW
"Having just completed the four-week Relationship Rewire program, I am experiencing a new sense of 'ease' in all my relationships. Although I began the course with a focus on one relationship, I found that the positive energetic shifts and changes have improved all of my relationships. The group sharing, both in the session and then during each week on our WhatsApp group, was really supportive and I believe 'accelerated' the necessary healing of various aspects of my relating to myself and others. Given that there is no escaping reality in this dimension, I would highly recommend this program, as well as any other programs that Allura offers. (I have completed them all.) Thank you, Allura, and my beautiful Rewiring group." 
Lou 
---
 "I have really dedicated myself to the last four weeks, and Allura, your Relationship Rewire has changed my life to be honest.
It was my personal missing link - I wish I had this years ago
You are an earth Angel with a higher purpose. And this is it.
Far out I feel blessed."
Marjorie
---
 "I have found the Relationship  Rewire program to be deeply transformational.
I have done work before with other people, but nothing compared to the depth, clarity and understanding that Allura provided.
This program was systematically structured and explained in such a way that was easy to follow. I had so many ah-ha moments as realisations came in and truths revealed themselves.
There was ample opportunity to ask questions and apply this to real-life relationships in real-time with feedback and guidance from Allura.
I found the group structure also provided a powerful container for transformation as we held space for each other and resonated through the work that each of us were doing.
I noticed changes very quickly with the relationships around me and to myself. There is more compassion, grace, openness, space and curiosity. I look forward to how these relationships might evolve.
I am deeply grateful to Allura and this program for the steps of alignment back to self."
Jenni
Inclusions...
Four weeks of content
---
Journal activities and relationship challenges
---
Five Weekly online group sessions
---
Group text support via WhatsApp
---
Small groups of only 5 to enable individual attention and a true shift
---
Spots are strictly limited to 5 people per group 
Commencing:
Monday 2nd October 2023
12pm AEST
Online
Investment:
$155 per week x 4 weeks
Pay in full or via weekly payments
JOIN GROUP 1 >>
Commencing:
Tuesday 3rd October 2023
7pm AEST
Online
Investment:
$155 per week x 4 weeks
Pay in full or via weekly payments
JOIN GROUP 2 >>
Commencing:
Wednesday 4th October 2023
12pm AEST
Online
Investment:
$155 per week x 4 weeks
Pay in full or via weekly payments
JOIN GROUP 3

Unable to make these session times?
If you are unable to attend one of the group session times, we would love the opportunity to discuss how we can tailor the program to work for you and your availability.
Contact Us
---
Introducing Allura Halliwell...
Allura has a multidimensional approach to bringing you all the support you need for your inner journey.
She has mastered the art of transformational healing after a radical out of body experience, and now uses her own process to heal deep core wounds, lead Quantum Journeys and re-design the architecture of reality, all with deep empathetic connection.
She has a post graduate degree in psychology, is an Advanced Quantum Meditation teacher, Psych K facilitator to shift limiting beliefs, Non-violent Communication Specialist and Quantum Healing Hypnosis Technique (QHHT) Practitioner.
Allura runs powerful online group programs, leads heart-centred retreats, and has her own podcast called "The Mystic Within". She specializes in rewiring the energetic patterning of your core wound of unloved, unworthy and unknown so you can live a life of energetic sovereignty.
She is a potent conduit between the human and the divine for all she meets.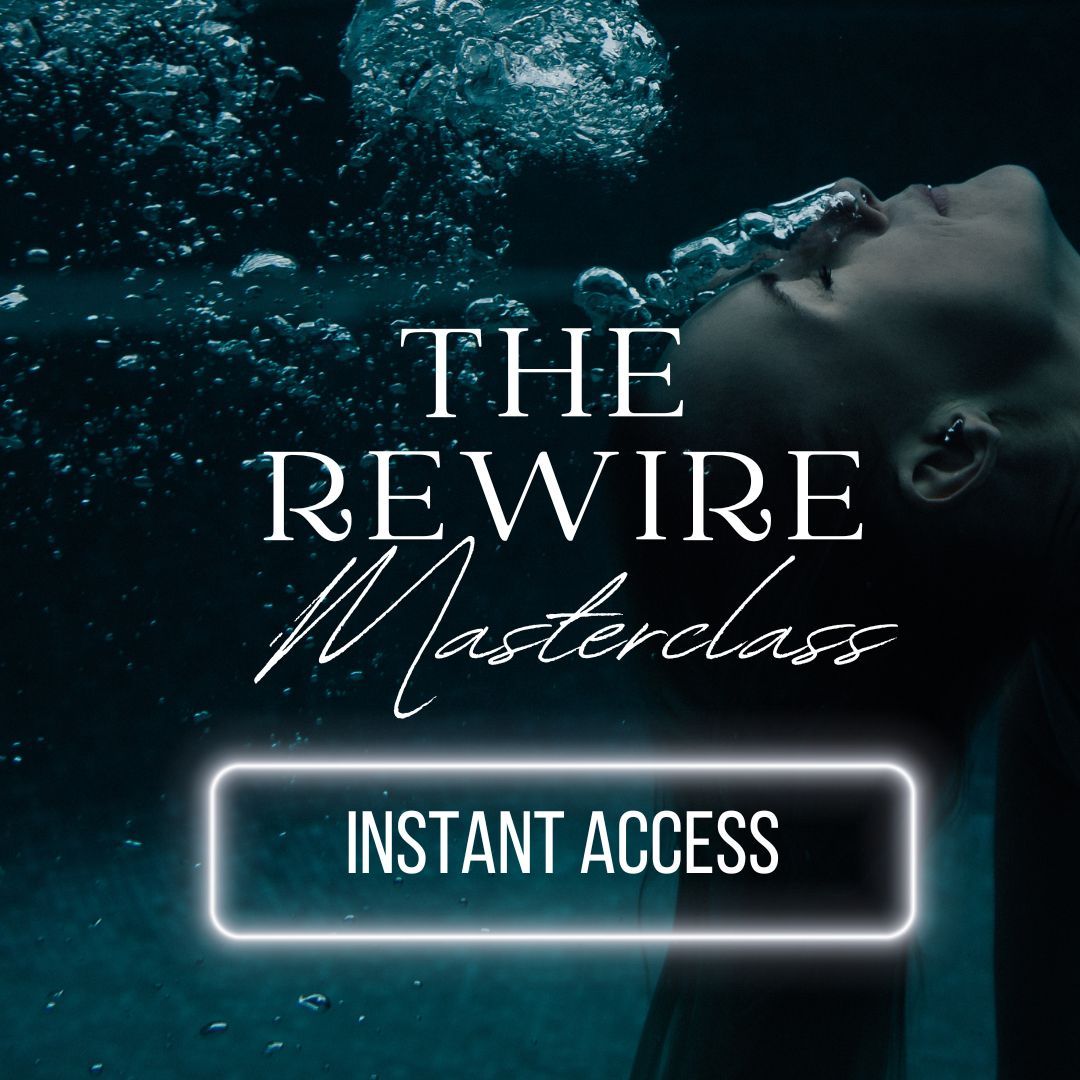 To transform all your relationships and begin to feel a sense of love, worthiness, and understanding in this powerful
FREE Relationship Rewire masterclass.
GET INSTANT ACCESS
"I absolutely loved working with Allura in the Relationship Rewire container. She really is in a league of her own and has the ability to get to the root of the issue with sensitivity and compassion. I had so many aha moments and breakthroughs during the 5 weeks that really helped me to see things with so much clarity. Interestingly, when I fully let some things go, I met my amazing partner, who is everything I ever dreamed of. From my heart to yours, thank you, Allura 🙏" 
Hayley
---
 "The overall experience with Allura has completely changed my understanding of the human experience. It has enabled me to view so many things with fresh eyes - concepts like time, fear, self love, unconditional love and social norms.
Dearest Allura, from all versions of me and the depths of my heart, thank you for guiding me through the process of saving myself"
Karen
---
 "My relationships within my career, family, friends, and romantic partner have shifted because of the work I have done with Allura holding my hand every step of the way. My life and all the moving pieces that were unclear prior have genuinely shifted into alignment.
Thank you, Allura for holding space to allow me to explore the depths of my pain, for teaching me a whole new framework to process life, for reminding me to stay present with the experience no matter how uncomfortable it may feel in the moment.
Thank you for sharing your wisdom and love with me"
Esther
Join the wait list to be the first to know when the next round of
The Relationship Rewire Opens